SEYVUM, the leading brand in the gardening industry, is thrilled to announce its participation in Amazon Prime Day, offering exclusive discounts on its range of gardening tools and equipment. With a focus on delivering high-quality products, SEYVUM is set to captivate gardening enthusiasts by providing significant discounts on popular items such as Leaf Blowers, Mini Chainsaws, and the highly anticipated new String Trimmer.

As the gardening season peaks, SEYVUM understands the importance of having reliable and efficient tools to maintain outdoor spaces. With its extensive lineup of top-notch gardening products, SEYVUM has become a trusted choice for professional landscapers and hobby gardeners.

During the highly anticipated Amazon Prime Day event, SEYVUM is proud to offer substantial discounts on its entire range of gardening tools. Go to seyvumtools.com, and get a 5% code, code can be stacked with the prime coupon, click on the product you want in the website, and click buy to jump to Amazon. All transactions will be done on Amazon. This presents an excellent opportunity for customers to stock up on essential equipment or upgrade their existing tools at unbeatable prices.

SEYVUM's Leaf Blowers are designed to make yard cleanup a breeze. With powerful motors and ergonomic designs, they provide the necessary force to quickly and effectively remove leaves and debris. Additionally, SEYVUM's Mini Chainsaws combine cutting-edge technology with user-friendly features, making them the ideal choice for pruning, tree maintenance, and wood-cutting tasks.

However, the spotlight of this year's Amazon Prime Day event will be on SEYVUM's newest addition, the String Trimmer. Equipped with state-of-the-art features and advanced functionality, this innovative tool is set to revolutionize the way gardeners tackle their lawn maintenance. The string trimmer boasts a lightweight design, adjustable cutting heights, and precise trimming capabilities, ensuring a neat and professional-looking lawn every time.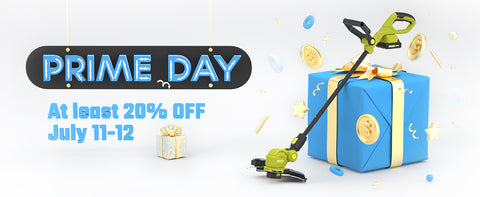 To access the exclusive deals offered by SEYVUM on Amazon Prime Day, customers must be Amazon Prime members. On top of that, we are offering an additional 5% discount, which can be obtained by clicking on the link in the article.

For more information about SEYVUM and its range of gardening products, please visit seyvumtools.com. Start preparing for Amazon Prime Day now and don't miss out on the opportunity to elevate your gardening experience with SEYVUM's exceptional tools.

SEYVUM is a leading brand specializing in high-quality gardening tools and equipment. Committed to innovation and customer satisfaction, SEYVUM offers a diverse range of products designed to meet the needs of gardening enthusiasts.