Introduction:

Welcome to SEYVUM, where innovation meets practicality. Today, we're excited to introduce you to our latest creation - the SEYVUM 5-inch Mini Chainsaw. Packed with power and precision, this portable tool is set to revolutionize the way you approach light-duty cutting tasks. Whether you're an outdoor enthusiast, a DIY hobbyist, or a professional in need of a compact cutting solution, our mini chainsaw is designed to deliver unparalleled performance. Join us as we explore the features and benefits of this game-changing tool!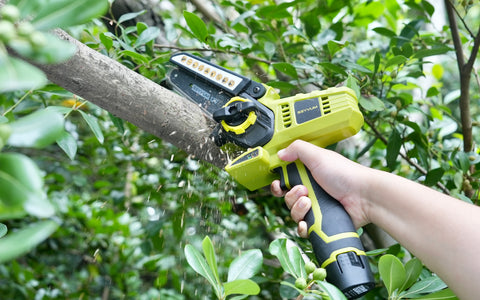 Compact Yet Powerful:

Don't let the size fool you! The SEYVUM 5-inch Mini Chainsaw may be small, but it's mighty. Equipped with a robust motor and razor-sharp chain, this chainsaw can effortlessly handle pruning, trimming, and light cutting tasks. Its compact design allows for easy maneuverability and precise control, making it an ideal companion for intricate work in tight spaces.


Safety First:

At SEYVUM, safety is our top priority. The mini chainsaw is engineered with multiple safety features to protect both you and the tool. The integrated safety switch prevents accidental starts, and the chain brake halts operation in a split second when needed. Additionally, the low kickback chain reduces the risk of kickback, ensuring a safer cutting experience.

Environmentally Friendly:

As part of our commitment to sustainable practices, the SEYVUM 5-inch Mini Chainsaw is designed to be eco-friendly. Its battery-powered operation reduces emissions, making it a greener alternative to traditional gas-powered chainsaws. By choosing our mini chainsaw, you contribute to preserving the environment without compromising on performance.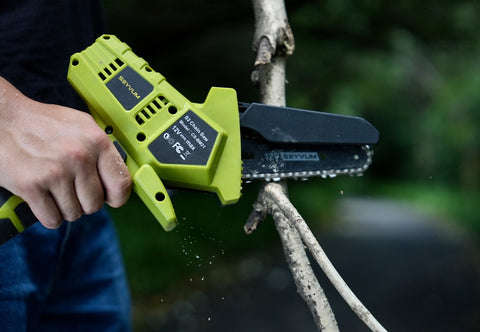 Conclusion:

The SEYVUM 5-inch Mini Chainsaw is a game-changer in the world of cutting tools. With its compact design, exceptional power, and versatile applications, this innovative tool is a must-have for anyone seeking convenience and efficiency in light-duty cutting tasks. Whether you're a seasoned professional or a casual DIY enthusiast, SEYVUM's mini chainsaw is sure to impress with its performance and safety features. Embrace the power in the palm of your hand and experience the cutting-edge difference with SEYVUM!