Introduction:
Maintaining a clean and tidy garden has never been easier with the SEYVUM 20V 5.0 Ah Battery Cordless Leaf Blower. This powerful and versatile tool is designed to make your gardening tasks a breeze. With its impressive features and reliable performance, this cordless leaf blower is a must-have for any homeowner or gardening enthusiast. Let's dive into the details and discover why the SEYVUM leaf blower is a game-changer for your outdoor cleaning needs.

High Capacity Battery:
One of the standout features of the SEYVUM cordless leaf blower is its 5.0Ah lithium-ion battery, which offers an impressive working time. With this large capacity battery, you can enjoy up to 30 minutes of continuous operation on high speed and even longer on low speed. The included 2.5-hour fast charger ensures that your battery is ready to go in no time. Just remember to let the battery cool before charging to maximize its lifespan.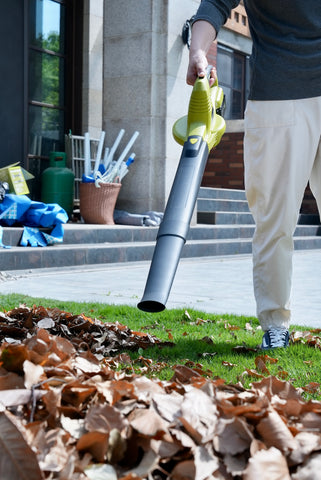 Adjustable Variable Speeds:
Whether you're dealing with light debris or heavy leaves, the SEYVUM leaf blower has got you covered. It features two variable speeds to cater to your specific needs. The first speed setting provides a gentle breeze at 70 MPH, perfect for clearing dust and delicate surfaces. For more demanding tasks, switch to the second speed setting, which delivers an impressive 150 MPH airflow, capable of moving leaves and small rocks effortlessly. Adjusting the speed is as simple as pressing a button, making it convenient and user-friendly.

Flexible Tube Design:
The SEYVUM cordless leaf blower is designed with practicality in mind. It comes with two sections of tubes that can be easily connected to create a longer air blower or used separately for added versatility. This thoughtful design accommodates users of different heights and allows you to adapt the tool to various usage scenarios. Whether you need to reach high tree branches or clear debris from hard-to-reach corners, the SEYVUM leaf blower ensures maximum maneuverability and efficiency.

Wide Range of Applications:
With its exceptional maneuverability and durability, the SEYVUM leaf blower is not limited to garden care alone. It is a multi-purpose tool that can be utilized in various settings. From keeping your patio and garden free of debris to tidying up your car, jobsite, camping area, shop, depot, or woodworking space, this cordless leaf blower will become your go-to solution for all cleaning tasks. Its lightweight and cordless design make it easy to carry around and use wherever needed.

Conclusion:
The SEYVUM 20V 5.0 Ah Battery Cordless Leaf Blower offers a powerful and convenient solution for all your outdoor cleaning needs. With its high-capacity battery, adjustable variable speeds, flexible tube design, and wide range of applications, this tool is a valuable addition to any homeowner's toolkit. Say goodbye to the hassle of rakes and brooms, and embrace the efficiency and effectiveness of the SEYVUM leaf blower. Enjoy a clean and beautiful outdoor space with ease, thanks to this reliable and versatile garden care companion.