If you're looking for a powerful and reliable tool to add to your collection, look no further than the SEYVUM 1/2" Impact Gun. With a max torque of 320 Ft-lbs (430N.m), this power impact driver is perfect for any project that requires heavy-duty torque.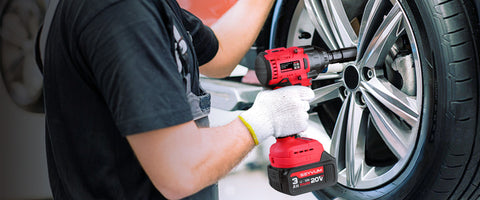 The Power You Need

The SEYVUM 1/2" Impact Wrench is equipped with a 20V brushless motor, providing you with the power you need to get the job done quickly and efficiently. The brushless motor also ensures a longer lifespan for your tool, as it reduces wear and tear on the motor itself.

Cordless Convenience

With a 3.0Ah Li-ion battery and fast charger included, the SEYVUM 1/2" Impact Gun is cordless and convenient. You won't have to worry about being tethered to an outlet or tripping over cords while you work. The battery provides plenty of power to keep you going throughout your projects, and the fast charger ensures you won't be waiting around for your tool to recharge.

Complete Set

The SEYVUM 1/2" Impact Gun also comes with 4 pcs impact sockets, making it a complete set ready for any project that comes your way. With a variety of socket sizes to choose from, you'll have the right tool for the job every time.

Upgrade your tool collection with the SEYVUM 1/2" Impact Wrench. With its powerful motor, cordless convenience, and complete set of impact sockets, it's the perfect addition to any DIY enthusiast or professional's toolkit.
Watch the video to learn more.